Environmental Protection Management
According to TTY Biopharm's environmental protection management approach, all operational activities must give priority to environmental sustainability. As a leading manufacturer in the pharmaceutical industry, we realize that good health relies heavily on a healthy environment, including clean air and water, as well as proper waste disposal. In this manner, the impact of climate change on human health is bound to decline gradually. After years of hard work, we have obtained the exciting results below:
When purchasing and using raw materials, we strive to save resources in order to prevent damage to the environment. According to the Company's commitment to sustainable development, and based on the precautionary principle, TTY Biopharm's responsibility is to do our utmost to eliminate environmental risks. TTY Biopharm's suppliers are required to comply with TTY Biopharm's Supplier Code of Conduct.
TTY complies with Bureau of Energy's "Energy Conservation Goals and Implementation Plans Set for Energy Users", the industrial power heavy users must achieve an average energy conservation rate of 1% within five years since May 2015. The specific measures are taken in accordance with international environmental standards, including ISO 14001, ISO 50001, and ISO 14064-1 as our management approach and compliance specifications for various energy conservation and carbon reduction measures.
At the same time, we proactively disclose transparent information on air emissions, and the main type of emissions are greenhouse gases (GHG). GHG is the main culprit to climate change. With 2015 as the base year, TTY Biopharm has achieved amazing results, where GHG emission intensity was reduced by 12.9%.
We formulate water conservation policies and plans in accordance with local government regulations and inspection standards in various countries. Our long-term commitment to water conservation has successfully led to declining water consumption. Our water consumption in 2018 decreased by 3.09% compared to the previous year.
TTY Biopharm does not discharge water with high concentration of chemical substances. Low-concentration wastewater first goes through primary treatment in the factory before being channeled to the sewage treatment plant in the industrial park for final treatment. After meeting the national effluent standards, the treated wastewater is discharged into receiving waters, thereby reducing environmental degradation.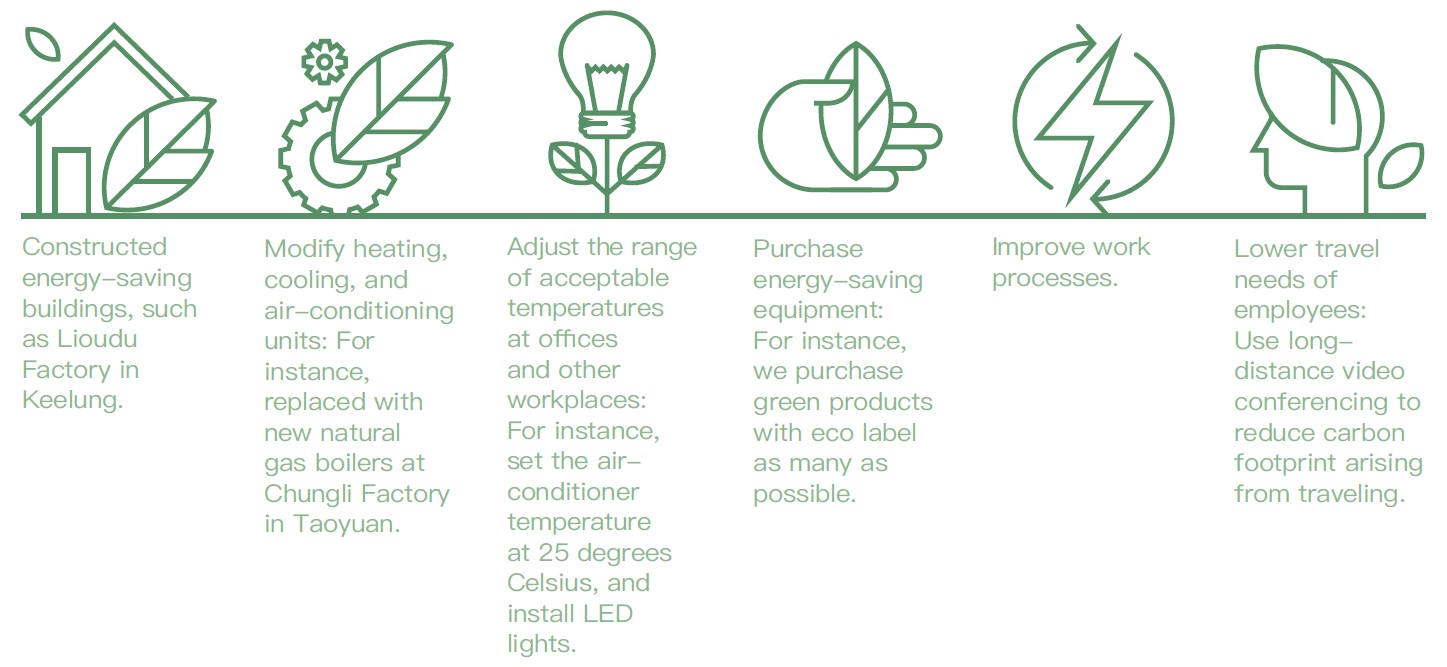 Management in Energy Conservation and Carbon Reduction
TTY Biopharm's energy-related measures echo seven UN Sustainable Development Goals (SDGs), including SDGs 6, 7, 9, 11, 12, 13, and 15.
Energy consumption statistics
(Unit: million joules)
Note:
1. In January 2018, natural gas-fired boilers were set up to replace the consumption of low-sulphur heavy fuel oil, thereby effectively reducing carbon dioxide emissions.
2. Formula: 1 liter of low-sulphur heavy fuel oil=8400 kcal=35,162,400 joules
3. Formula: 1 m3 of natural gas=8000 kcal=33,488,000 joules
4. Formula: 1 kWh of purchased electricity=3,600,000 joules
5. The conversion factors used in Items 2 and 3 were derived from the Greenhouse Gas Emission Factor Management version 6.0.3 announced by the Environmental Protection Administration on January 17, 2018.
Greenhouse gas emission statistics
(Unit: ton CO2e)
Water Resource Management
We formulate water conservation policies and plans in accordance with local government regulations and inspection standards in various countries. Systematic measures related to water resource management are as follow:
• Collect and recycle water from cooling towers, and build a circulation system
• Reuse clean water
• Lower cooling requirements and improve the cooling process
• Improve heat recovery rate and reduce demand for cooling water
Waste Management
TTY Biopharm has appointed three professional technicians in charge of waste management pursuant to the regulations set forth in Paragraph 2, Article 28 of the Waste Disposal Act as per public notice of the Environmental Protection Administration, Executive Yuan on June 7, 2002. Waste disposal plans are executed upon review and approval by competent authorities of special municipalities, counties, and cities or agencies commissioned by the central competent authority. Qualified disposal and treatment organizations are contracted to carry out waste disposal and processing operations in accordance with relevant operations.
TTY Biopharm waste disposal and tracking is carried out in accordance with Paragraph 2, Article 14 of Permit Management Regulations for Public or Private Waste Clearance and Disposal Organizations. Disposal organizations are required to report Waste Clearance and Transportation Machinery which has been approved and is solely used for the purpose of waste disposal. Industrial waste vehicles must be equipped with GPS systems and vehicle trajectory reporting rates must reach 90% to facilitate real-time monitoring by competent authorities and this company.
Waste by category and disposal method
(Unit: tons)